The 2020 maximalism trend...
This fun and colourful shoot really showcases where you can take the styling of a wedding! It oozes the 2020 maximalist trend with abundant flowers and colourful table decor.
The festival lighting is perfect for an outdoor venue and mixing up the rustic with the tropical make this styling approach perfect for the free spirited couple who want something different for their big day...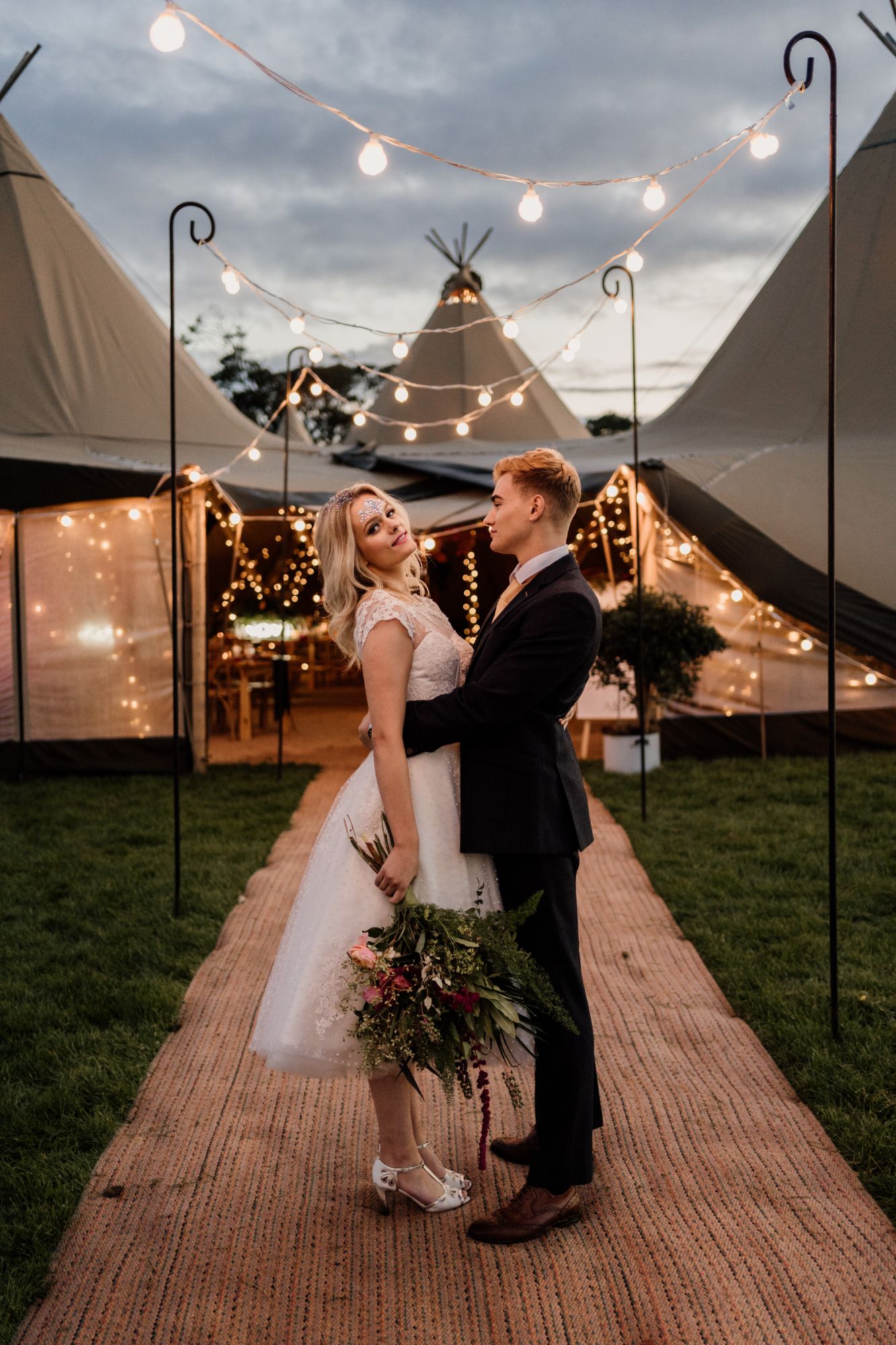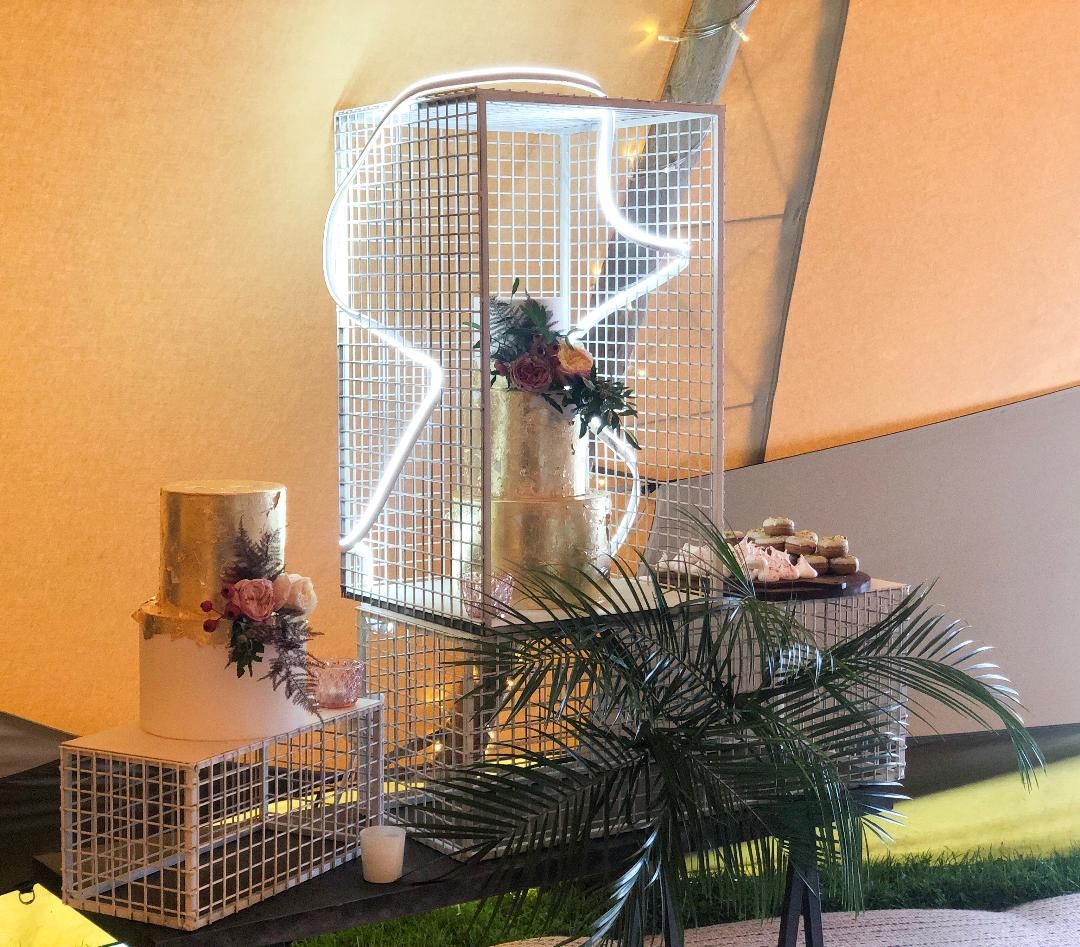 It is all about the neon!
The use of neon makes this cake display really pop and provides the retro accents that add to the fun and frivoloty of the theme.
Using separate cake stands is a perfect approach if you are catering for dietary requirements - the vegans, the allergy sufferers and the fussy eaters can all be accomodated in an uber cool way...
We love this cake set up with the metallic look - set against the white mesh it stands out as a true feature of the wedding reception!
We'll always be together... Together in electric dreams...
How to rock the maximalism wedding trend...
Go mad with your flowers. There literally cannot be enough flowers. From floral backdrops to table centre pieces and over the top bouquets with clashing colours, the word abundance should be an understatement.
Embellish, adorn and decorate. Your outfits should be a real statment. From head to toe beading and bling through to intricate lace and glorious patterns - the more the texture and interest you can add to your wedding attire the more you will rock this trend...
Be bold with colours. There are no rules with a maximalism approach to a wedding - so choose what you love and what gives the wow factor!
Don't dine - FEAST! The wedding breakfast should be overflowing with colour, texture, scents and flavours. With the maximalism trend you can have different types of food and the more continents covered the better...
Make a statement with the cake (or cakes!) Dessert tables are a big part of this trend, where everyonce can tuck into sweet treats after some furious dad dancing and champagne guzzling!
The Mesh Trend - going technicolour!
The mesh trend is here to stay - and it is going multi-coloured!
We have seen a move towards coloured props and accessories rather than the standard metallics and we love it.
This table plan is a perfect example of combining stunning floristry with funky stationery and the overall effect is a modern masterpiece which is bang on trend for 2020 and beyond.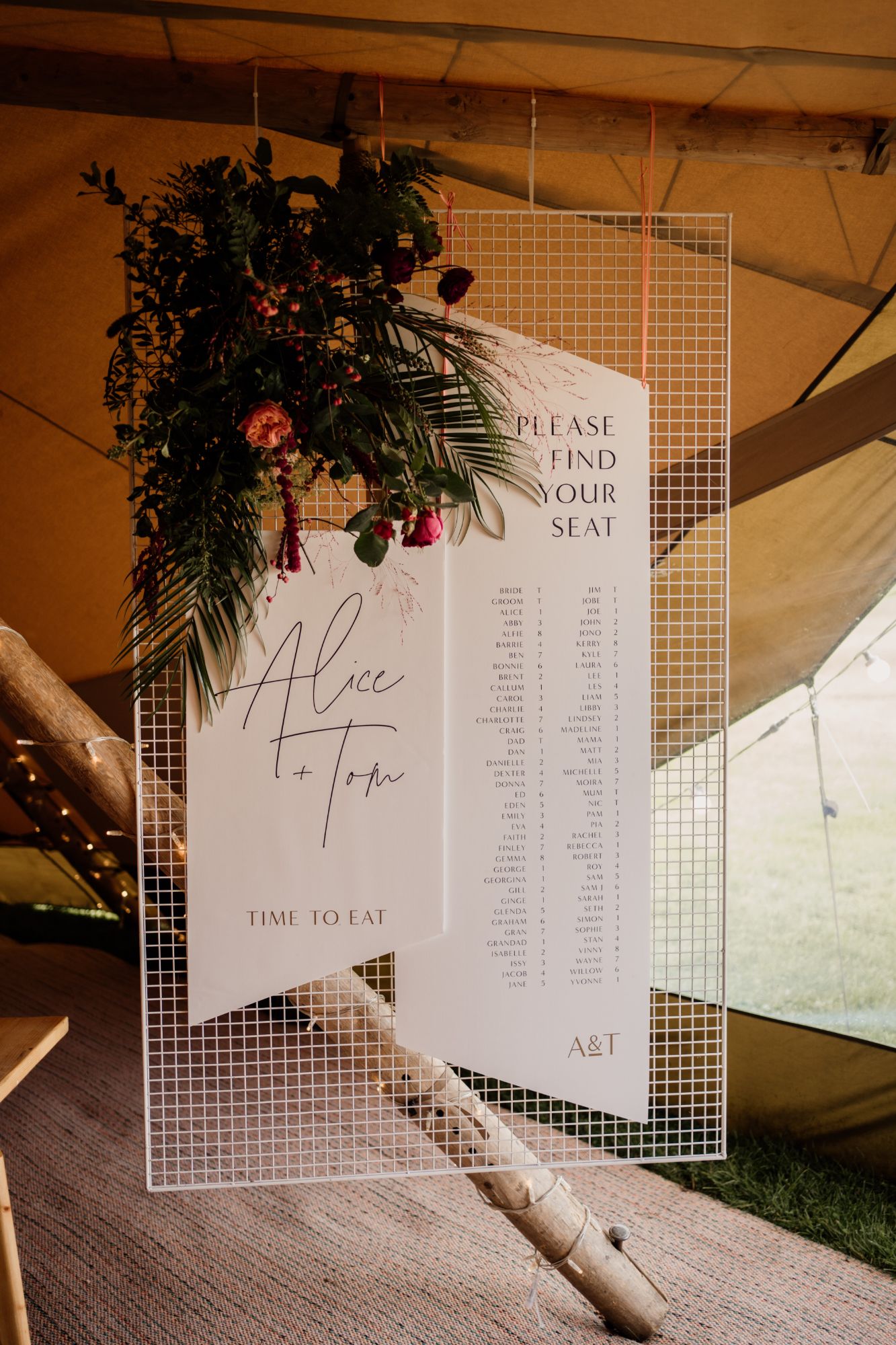 There is some debate over whether having a formal table plan is still a good idea or whether it spoils the organic vibe of a great day...
For us we love a table plan as it allows the bride and groom to orchestrate where people are in the room - which can be a good thing when puttting families and friends in the same room!
If you don't want to be too prescriptive then why not ask guests to mingle at the ceremony ut then have the plan at the reception? Remember it is your day - so do want you want!
V E N U E : C A T T O W S F A R M
T I P I : S A M I T I P I
P H O T O G R A P H E R : M A G D A K P H O T O G R A P H Y
S T Y L I N G : T H E R U S T I C W E D D I N G C O M P A N Y
M E T A L P R O P S : B R A M B L E S K Y
F L O W E R S : O N C E U P O N A T I M E F L O W E R S
C A K E : B E L M O N T H O U S E C A K E R Y
S T A T I O N E R Y : R O S E P R E S S
C A T E R I N G : T H O M A S T H E C A T E R E R
H A I R : K A T I E A T T W O O D
M A K E U P : D A N I E L L E Q U E N A U L T
Here are the various ways that you can get your hands on a bit of BrambleSky...